AM 1530 | WCKG | 102.3 FM
On March 4, 1985, WCKG was born on 105.9 FM in Chicago offering album oriented rock (AOR). John Records Landecker continued hosting the morning show on WCKG before returning to WLS AM 890 in 1986.
It doesn't have to be old to be classic!
By 1987, 105.9 WCKG had become what radio consultants and programmers where referring to as "classic rock". WCKG's On-air line-up included the morning team Stephanie Miller & "Big John" Howell, Mitch Michaels, Allan Stagg, Joe Thomas, Debbie Alexander, and Rich Koz.
WCKG added the syndicated Howard Stern Show to their talent roster in morning drive in March 1995. Following on-air attacks on rival Chicago shock jock Mancow Muller's family and Muller's boss's family, Stern's show was dropped from 105.9 WCKG in October 1995. 
105.9 WCKG was traded to Infinity Broadcasting in 1996. At the end of the year, Infinity Broadcasting was purchased by the parent company of CBS.
105.9 The Package!
With the competitive tone in the market set by the personality driven talk on WLUP, 105.9 WCKG began evolving away from music and toward a younger skewing adult talk format in July 1996. It began with the addition of Steve Dahl in the afternoon drive and the return of Stern to morning drive, and classic rock music the rest of the day. In 1998, Jonathon Brandmeier joined the party hosting middays on WCKG. During this time, the station was branded "105.9 The PaCKaGe".
WCKG, Talk That Rocks!
In 2002, under the tutelage of veteran programmer Tim Sabean, rock music was re-added to WCKG's programming in certain hours, and its slogan became "Talk That Rocks!". On April 1, 2002, Kevin Matthews joined WCKG as midday host. Other personalities and programs during this era include, Patti Haze & Mary Pat LaRue, Pete McMurray, Opie and Anthony, Karen Hand and Dr. Kelly Johnson, Bill O'Reilly, Jim Cramer, Buzz Kilman & Wendy Snyder, Frankie "Hollywood" Rodriguez, Bob Sirott & Marianne Murciano, Mo Drive & Brooke Hunter, Suzanna Homan, Little Steven's Underground Garage, and The House of Blues Radio Hour with Dan Aykroyd as Elwood Blues. The rock music was removed from the station's schedule by early 2005.
"Free FM"
With Howard Stern's departure from terrestrial radio for Satellite Radio on December 16, 2005, WCKG's parent company Infinity rolled out a national brand for their FM Talk stations known as "Free FM".
Infinity then announced their succession plan for the King of All Media being the addition of 3 regional morning shows hosted by Adam Carolla, David Lee Roth and a shock jock from Ohio known as Rover.
January 3, 2006, WCKG would become the flagship station of Rover's Morning Glory. Following months of poor ratings, Rover's Morning Glory was dropped on August 1, 2006, and was replaced by the New York-based Opie and Anthony Show.
From 2006-2007, WCKG was the flagship radio station of the Chicago Bulls. With the demise of WCKG's talk format, the Bulls returned to all-sports AM 1000 WMVP.
Chicago's FM Talk Station
On March 5, 2007 Matt Dahl (son of Chicago Radio Legend Steve Dahl) joined WCKG. Former Steve Dahl sidekick Garry Meier joined the station shortly after to host late mornings.
On May 2, 2007, WCKG's branding was changed from "Free FM" to "Chicago's FM Talk Station."
It was later rebranded back to "The Package". By this time, the weekday lineup consisted of Opie & Anthony, Garry Meier, Stan Lawrence & Terry Armour, Steve and Matt Dahl, Glenn Beck, Loveline with Adam Carolla & Dr. Drew Pinksi, and Bill O'Reilly.
October 29, 2007 was the last day of the talk format on 105.9 WCKG, as hosts and station staff said their goodbyes on-air. Steve Dahl's show continued to air on WCKG, with best-of clips airing for the rest of the day. His show moved to sister station 104.3 WJMK on November 5, then known as the jockless "Jack FM".
"Fresh 105.9"
WCKG's call letters were changed to WCFS-FM on November 26, 2007 as the station became "Fresh 105.9" with an adult contemporary music format. The first song played was "Beautiful Day" by U2. The New Fresh 105.9 shared branding with co-owned WWFS in New York City.
AM 1530
AM 1530 WKDC Elmhurst signed on the air October 10, 1974. WKDC's call letters were originally chosen to represent the counties of primary coverage being Will, Kane, DuPage and Cook. WKDC ran 250 watts, during daytime hours only, and aired a middle of the road (MOR) format.
The station was founded by Frank and Lois Blotter, operating as DuPage Broadcasting Company. The studios were built for stereo (Cetec Sparta stereo audio equipment) although it was not until 1976 when the FCC authorized the station to test AM stereo. WKDC's daytime and night-time findings on AM stereo were presented at the 1977 NAB Convention in Washington, DC.
In 1981, the station was sold to Robert Snyder's Snyder Broadcasting for $1 million, and it began airing show tunes. Snyder Broadcasting filed for bankruptcy on December 29, 1982, and WKDC was taken off the air in October 1983. The radio station remained off-air for over a year until it was repurchased by Frank and Lois Blotter. When WKDC returned to the air, it began airing beautiful music and adult standards. By the early 1990s, WKDC was airing ethnic programming and big band music with studios above Plass's Glass in Elmhurst.
In 1994, AM 1530 was sold to Joseph J. Gentile for $700,000. Gentile subsequently changed the station call letters to WJJG, his initials. The Godfather of Sports Talk Radio, Chet Coppock, once nicknamed Joe Gentile  "The Baron of Barrington," after the town he owned a Chrysler-Plymouth dealership for many years.
Gentile hosted a radio program when he felt like it, while WJJG's format was a combination of brokered talk and adult standards. This was convenient because Gentile moved WJJG's studios to an apartment inside a complex he owned on St. Charles Road in Berkeley, known as "Villa Gentile". The Baron had his own apartment just a few units down from AM 1530. The station featured brokered programming, including a show hosted by John H. Cox, syndicated talk shows, and The Sounds of Sinatra, and Forgotten 45s with Mike Baker.
1530 WCKG
On September 19, 2012, General Manager Matt Dubiel changed the call letters of WJJG to WCKG, for a $50 filing fee with the FCC.
In 2013, Joseph J. Gentile Inc. sold AM 1530 WCKG to DuPage Radio, LLC.
WCKG broadcasts from sunrise to sunset on AM 1530, and 24/7 on 102.3 FM. You can listen online 24/7 here or via the free WCKG iOS App in iTunes, free WCKG Android App or pick WCKG inside the free iHeartRadio App!
Here is the current coverage map for AM 1530 WCKG in Chicago.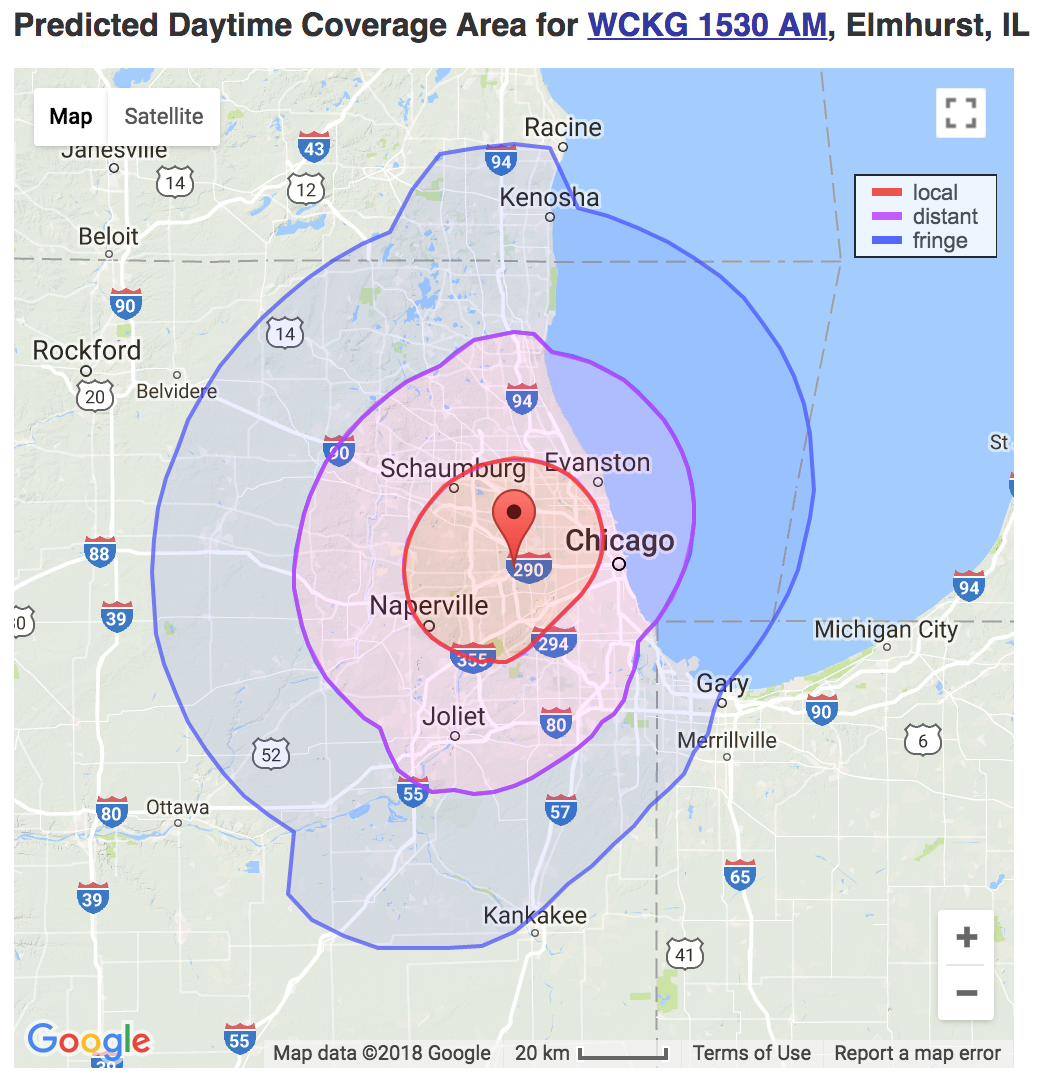 Here is a coverage map of the current 102.3 FM signal in Elmhurst, which will be upgraded soon!